ICY thermostat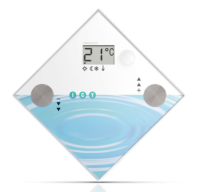 Display: show the current temperature
- button: allows you to set the temperature lower
+ button: allows you to set the temperature higher
How do you use the thermostat?
You can set the temperature higher/lower by briefly touching the + / - button. The set temperature remains visible as long as the display flashes. If it no longer flashes, you will see the current temperature.
Note: if you are absent for more than 2 hours, the thermostat will go to rest mode, which corresponds to a lower temperature.